A Taste of Spain with owner and winemaker of Spanish winery Valtonar
Regular price
Sale price
$100
Unit price
per
Sale
Sold out
Shipping within the EU/UK ranges from +$40-$50.
Get started with our planning experts
Schedule a call
Share
Minimum: You must order 3+ kits
What's Included:
Includes the four 100 ml wine bottle kit and virtual tasting.
Shipping Details:
Can only ship in the EU.
Shipping rates are based on shipping destination and may be more or less depending on the experience. Prices are confirmed when booking the experience.
Lead Time: 14 days from payment and receipt of shipping destinations. Inquire for rush options.
Duration: Our virtual experiences last approx. 45 min, but can be adjusted to your desired length.
Take a virtual trip to the rural heart of northwestern Spain with our European Virtual Wine Sample Tasting Kit from Bodega Valtoñar, a winery nestled in Anguix in the heart of the Ribera del Duero. The Ribera del Duero is one of 11 quality wine regions in Spain's autonomous Castile and León region, and one of several recognized wine regions located along the Duero River.
Each shipment for this virtual wine tasting experience includes:
1 mini bottle of Novissimus Verdejo
1 mini bottle of Valtoñar Rosado
1 mini bottle of Valtoñar Joven
1 mini bottle of Valtoñar Crianza
About Valtoñar: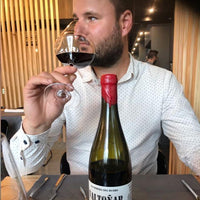 Valtoñar is a small winery in northern Spain located in the town of Anguix (Burgos) in the heart of the Ribera del Duero. The winery was founded in 2000 by the Rioja López family, whose family's wine-growing tradition dates back to the 16th century. Valtoñar only makes wines with grapes produced on their own vineyards. They work with several varietals including: Tempranillo, Merlot, Cabernet Sauvignon and Albillo Mayor. Valtoñar's philosophy is to respect their raw materials as much as possible. The grapes really are the cementing basis for their whole operation. This same philosophy for respecting what nature gives them shines through in their winemaking as well. Proof of this is how they use indigenous yeast in their fermentation process. This yeast comes directly from their vineyards and is found within the grapes. This results in authentic and incomparable wines that are true to their origin.
Frequently Asked Questions
Who hosts your virtual experiences?

We work with pre-vetted hosts that are experts in their respective fields. They've been hand-selected for their knowledge and their ability to engage a crowd.
How much does a virtual experience cost?

Prices vary, but our virtual experiences generally start at $70/kit and can go upward of $500/kit. This estimated price incorporates the materials, domestic (ground) shipping, and hosting fees. For some experiences there is a host fee which is a flat rate per event. In such scenarios the host fee will be shown on the experience's detail page. Expedited & global shipping options may incur additional fees. For customization requests and add-ons, please get in touch for pricing details.
What is the recommended lead time for a virtual tasting?

We recommend 2 weeks lead time from the day of payment and delivery of shipping information. If you need something quicker we can arrange for expedited shipping or recommend other options that might be available.
How does shipping work?

You will need to provide us with a list of all the shipping addresses. If you would like help with this we can put together a google form and send it to your participants on your behalf.
Where can you ship your virtual experiences to?

We can ship and/or make arrangements for participants in the US, Canada, Europe, and other global regions. Let us know where you your participants are and we can help with some solutions.
Can you accommodate dietary restrictions and non-drinkers?

Yes! We have a variety of Mocktail and food kits that we can ship out. We can also curate custom packages to accommodate participants with special requests.
What platform do you use to host your virtual tastings?

We use Zoom for all our tastings. If you are at an organization that prefers a different platform you're more than welcome to set up a meeting link that our virtual tasting hosts can jump on.
Choosing a selection results in a full page refresh.