Madrigal Estate Mini Bottle Wine Tasting Kit Plus Cheese Pairing
Regular price
Sale price
$115
Unit price
per
Sale
Sold out
Shipping included in the price
Get started with our planning experts
Schedule a call
Share
Minimum: You must order 8+ kits
What's Included:
Includes the small sample shipment, cheese pairing, shipping, and the virtual tasting.
Shipping Details:
(Price includes UPS 3-day select shipping, but local taxes not included). Cannot ship to: UT, MS, AL
Lead Time: 14 days from payment and receipt of shipping destinations. Inquire for rush options.
Duration: Our virtual experiences last approx. 45 min, but can be adjusted to your desired length.
Take a virtual journey through an entire Napa Valley estate winery with our Madrigal Estate Mini Bottle Wine Tasting Kit Plus Cheese Pairing and virtual wine tasting experience. The Madrigal family winery has been in operation since the late 1930s and they value the long relationship they've had with the land and the people of Napa Valley. The combined wisdom of the people who've lived on and farmed the vineyards for generations can be tasted in the spectacular wines they produce.
This virtual wine tasting package provides the perfect balance of whites and reds for a truly diverse tasting of all the Madrigal family's Napa Valley estate has to offer, plus a selection of delicious cheeses that pair perfectly with the wines. The kit includes four 2 oz bottles of wine (along with tasting notes), the paired cheeses, the shipping, the virtual tasting, and a virtual tour of the estate's vineyard, tank room, and barrel room. You also have the option to customize the kit by selecting 4-8 mini bottles from any of their varietals or vintages other than the ones listed below.*
Each shipment for this virtual wine tasting experience includes:
1 mini bottle of 2019 Estate Sauvignon Blanc
1 mini bottle of 2019 Estate Rosé, "La Vida Rosa"
1 mini bottle of 2015 Estate "Nuestra Sangre" Red Blend
1 mini bottle of 2019 2015 Estate Petite Sirah
*Prices and availability may vary
Additional offers and considerations:
Can add a full bottle of Sauvignon Blanc, Rosé, Petite Sirah, or Zinfandel to the kit for an all-in price (with shipping and tax) of $130
Trivia and prizes are available as add-ons
Blind tastings are available
Can accommodate international groups
15% discount for groups of 30 or more on all Madrigal Estate Tasting Packages
Upgrade this experience with premium add-ons
Chocolate Pairing
Premium chocolate bon bons from Napa's Earth & Sky chocolate company
From +$65
Cheese Pairing
Cheeses from a local creamery to compliment your kits.
From +$55
Snacks
Tasty snack items to pair with your kit.
From +$30
Branded Swag
Included your logo on a cocktail shaker, glassware, and other swag
From +$30
Custom printed inserts
We'll print your marketing materials or collateral
From +$1
Mocktails/Non-alch options
Great alternative for anyone in the group that would like a non-alcoholic alternative.
$75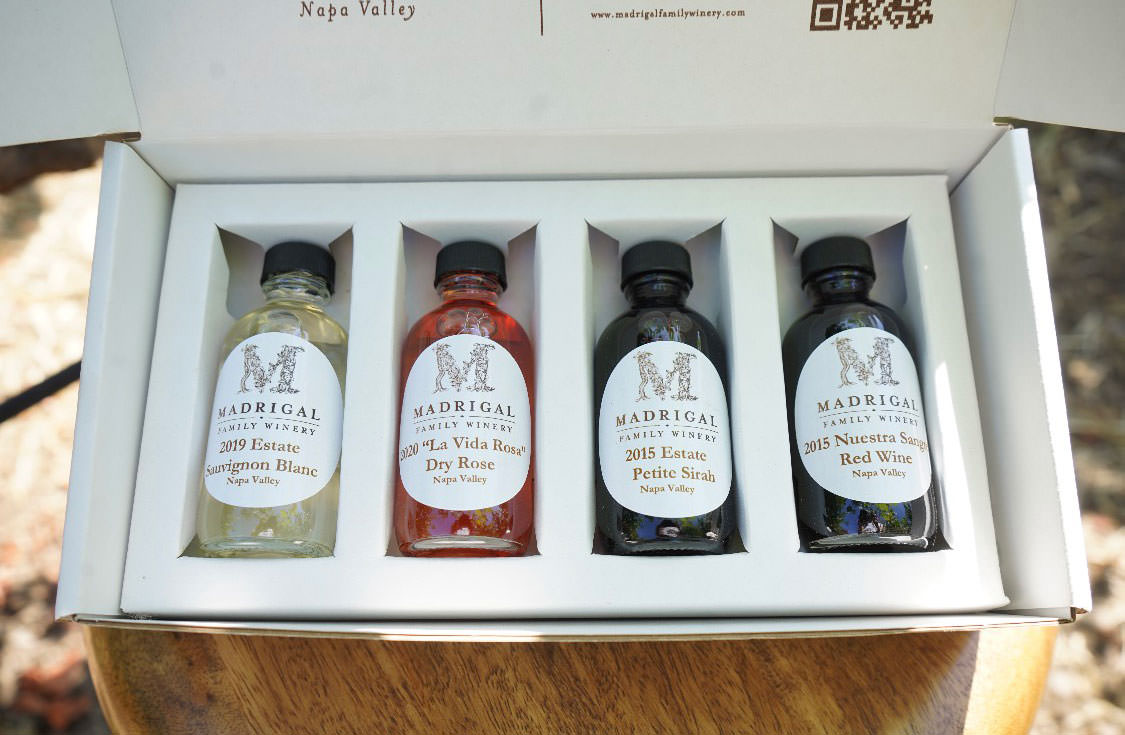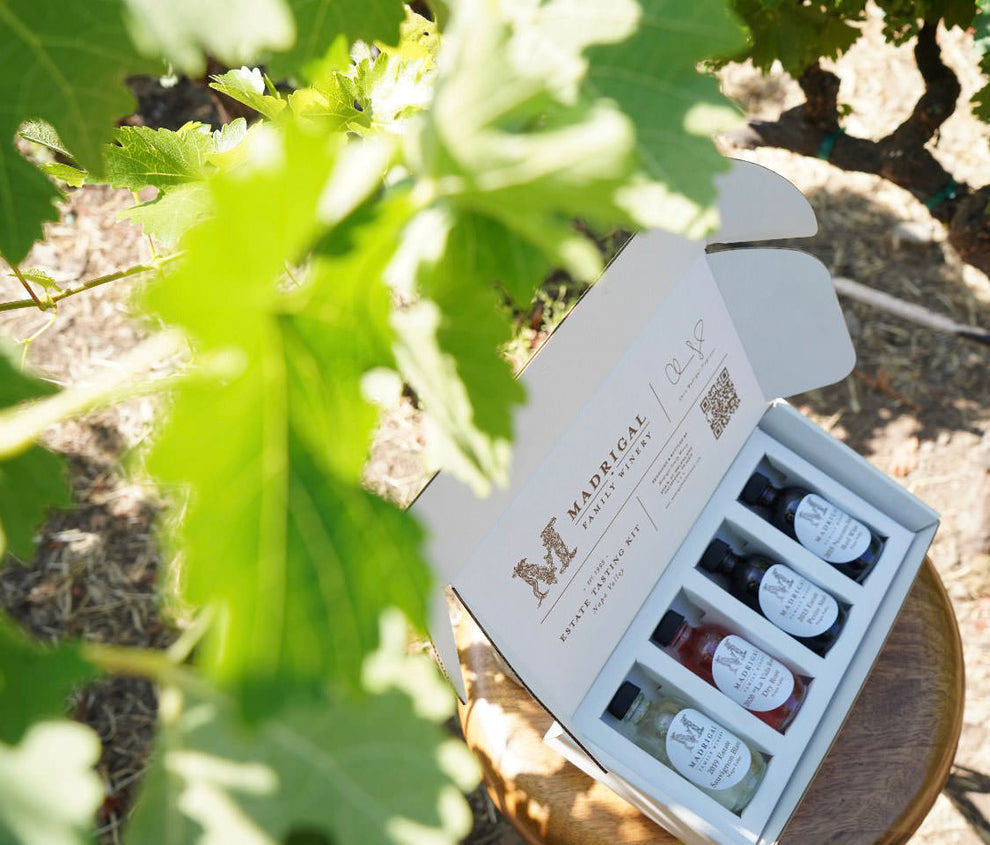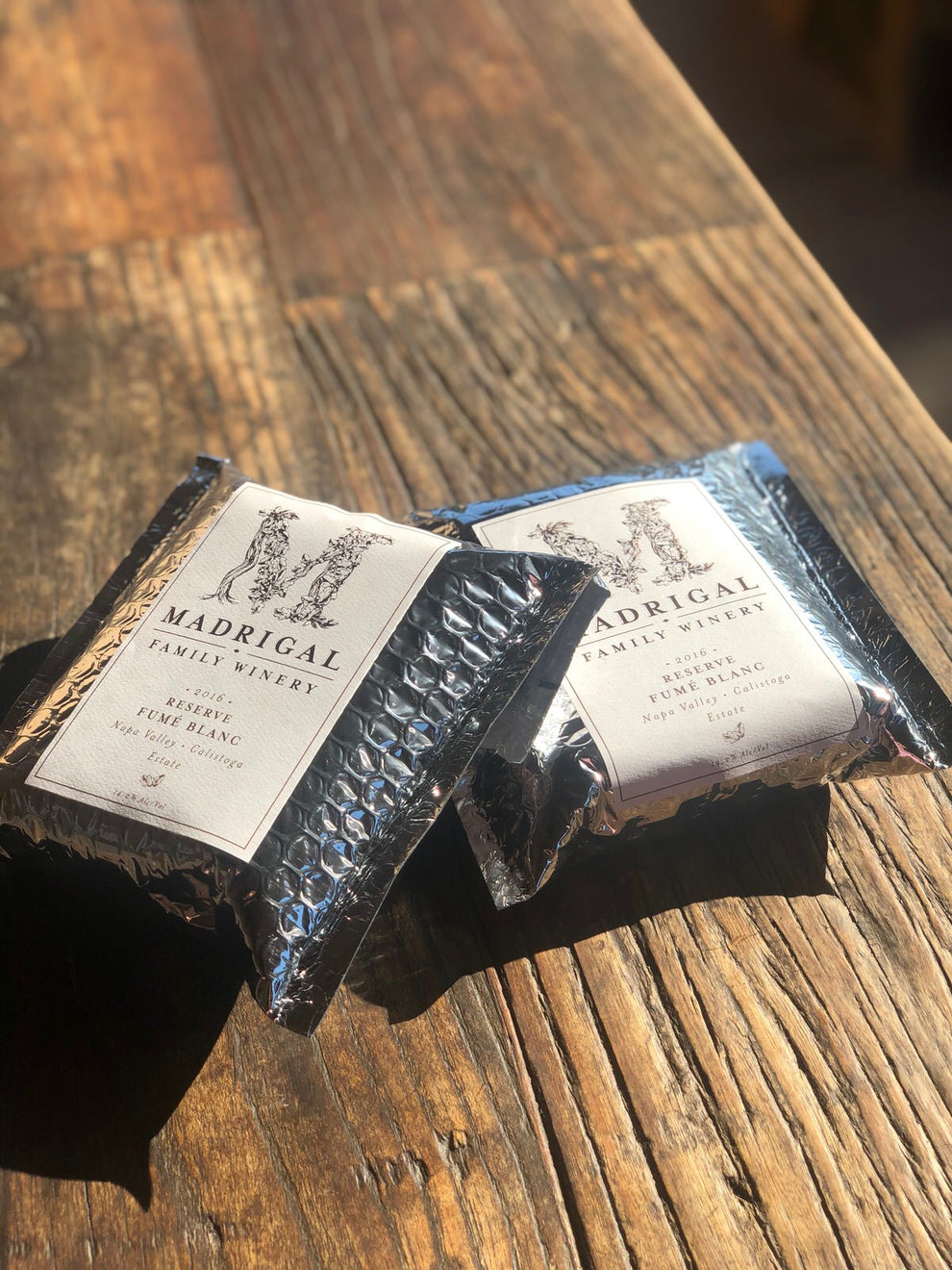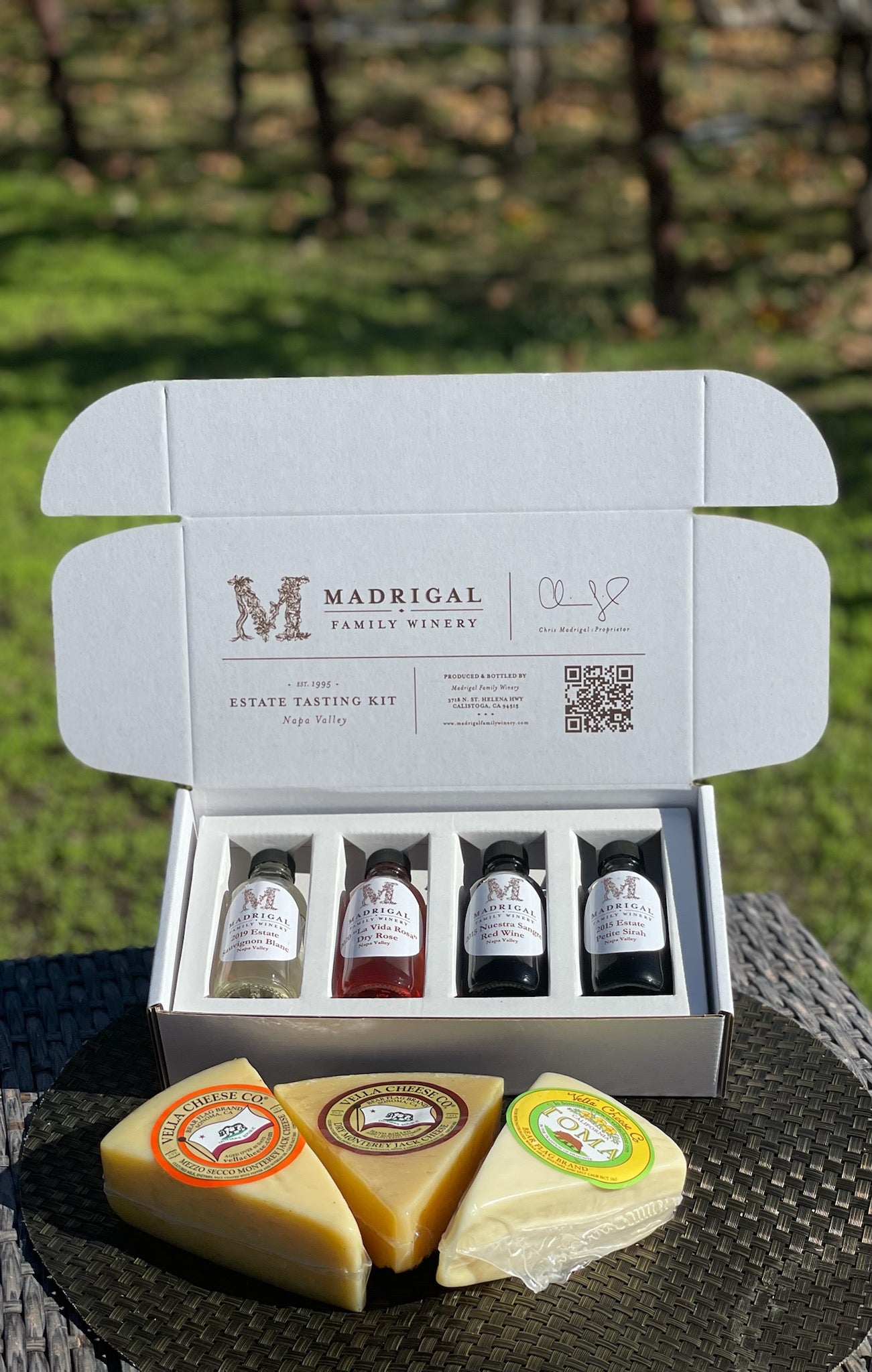 About the host: Madrigal Family Vineyards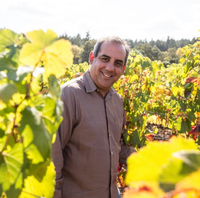 Madrigal Family Vineyards is located in the city of St.Helena of the Napa Valley. The winery has been in the family for many generations and they produce some spectacular wines.
About Our Virtual Experiences
Private Live-Hosted Events

All our virtual experiences are fully interactive events that are private to your group. Each is led by an expert host through zoom or your platform of choice.

Highly Customizable

We offer white-glove service so nearly every aspect of our experiences can be adapted for your needs.

International Options

We offer a wide variety of international options to help your events make a global impact.

Premium Kits & Ingredients

Our virtual experiences include premium kits that have been carefully curated to leave a lasting impression with attendees.
Frequently Asked Questions
How much does a virtual experience cost?

Prices vary, but our virtual experiences generally start at $70/kit and can go upward of $500/kit. This estimated price incorporates the materials, domestic (ground) shipping, and hosting fees. For some experiences there is a host fee which is a flat rate per event. In such scenarios the host fee will be shown on the experience's detail page. Expedited & global shipping options may incur additional fees. For customization requests and add-ons, please get in touch for pricing details.
What is the recommended lead time for a virtual tasting?

We recommend 2 weeks lead time from the day of payment and delivery of shipping information. If you need something quicker we can arrange for expedited shipping or recommend other options that might be available.
How does shipping work?

You will need to provide us with a list of all the shipping addresses. If you would like help with this we can put together a google form and send it to your participants on your behalf.
Where can you ship your virtual experiences to?

We can ship and/or make arrangements for participants in the US, Canada, Europe, and other global regions. Let us know where you your participants are and we can help with some solutions.
Can you accommodate dietary restrictions and non-drinkers?

Yes! We have a variety of Mocktail and food kits that we can ship out. We can also curate custom packages to accommodate participants with special requests.
What platform do you use to host your virtual tastings?

We use Zoom for all our tastings. If you are at an organization that prefers a different platform you're more than welcome to set up a meeting link that our virtual tasting hosts can jump on.
Choosing a selection results in a full page refresh.